In a world often inclined to obscure the intricacies of mental health, there exist courageous individuals who have made the bold choice to shatter the silence and reveal their journeys of resilience. Come along with us as we delve into the realm of mental well-being through the narratives of seven extraordinary Singaporean bloggers. This empowering anthology of personal chronicles illuminates the victories, struggles, and unfiltered emotions intertwined with the navigation of mental wellness complexities. From grappling with anxiety to embracing self-nurturing, their genuine voices provide solace, comprehension, and motivation to anyone who has confronted the trials of mental health.
Key Consideration Factors
Here at Surely, we recognize the criticality of providing our audience with precise and reliable information. To ensure the integrity of our featured companies in a specific field, we adhere to a rigorous selection process. We prioritize evaluating Google and Facebook ratings to identify the best-in-class entities. By closely scrutinizing feedback from real clients, we assure our readers that they have access to impartial and credible reviews. These ratings enable us to gauge the customers' overall contentment level and the quality of services provided by the company in question.
7 Inspiring Singapore Bloggers Sharing Their Journey on Mental Health
Promises
Established in 2011 by Dr. Munidasa Winslow, Promises Healthcare extends a comprehensive spectrum of psychiatric, psychological, and physical well-being services to individuals of all age groups. Employing a multidisciplinary methodology, their team administers holistic care grounded in cutting-edge, clinically verified protocols from neuroscience and psychology.
Their expertise lies in mental health and addictions, affording treatments for anxiety, depression, anger management, child and adolescent psychology, family and marriage therapy, and forensic psychiatry and psychology. Furthermore, their blog imparts insights into mental health.
>>Blog special features
In conjunction with their services, they cultivate a blog that addresses an array of mental health issues. This blog strives to foster awareness and debunk the misconception that mental health struggles are shameful or insignificant. Through their blog, they extend a helping hand to those silently grappling with mental health concerns.
>> Contact 
marketing@promises.com.sg
Our Better World
In 2011, the founders of Our Better World recognized the transformative potential of narratives to incite action, particularly in the domain of mental health.
Amidst the surge of smartphones, social media, and the Arab Spring movement, they discerned unnoticed instances of compassion across Asia and a pressing requirement for guidance in addressing mental health challenges. This realization kindled the mission of the foundation: to employ narratives as a catalyst for transformation.
>>Blog special features
At Our Better World, paramount importance is attached to consent and accuracy in their storytelling process. They diligently secure consent from all involved parties, ensuring the shared information is validated for accuracy. When engaging with minors, consent is unfailingly obtained from parents or legal guardians. While monetary compensation for story contributions is not offered, a nominal sum might occasionally be extended to defray costs. Interviewees consistently affirm their consent for on-record interviews, and all facts are rigorously scrutinized prior to publication.
>>Website
https://www.ourbetterworld.org/series/mental-health/blog
>> Contact 
storyteller@ourbetterworld.org
A Kind Place
Sze Jin, a Registered Clinical Psychologist and Supervisor, extends an open invitation to A Kind Place, a sanctuary she conceived for therapists and clients seeking accessible therapy. Her blog also delves into diverse mental health matters and their viable resolutions.
With an array of experiences and a vision of a self-reliant community, Sze Jin endeavors to offer a nurturing space where individuals can embark on their journey to enhanced mental well-being.
>>Blog special features
A Kind Place has played a pivotal role in heightening awareness and aiding others in attaining a deeper comprehension of their struggles. Through their therapeutic support and the reliability of their blog, clients and readers have undergone a rejuvenation, rediscovering vitality, hope, and renewed confidence to embrace life.
>> Contact 
team@akindplace.co
Kaya Toast For The Soul
Hernping initiated this blog. Having experienced the struggles shared by many during his own tumultuous times, he imparts sagacious insights drawn from personal research and exploration, weaving a captivating tapestry of his life's experiences.
With an ingrained zeal for mental health, happiness, and a harmonious lifestyle, Hernping's mission is to empower fellow Singaporeans.
>>Blog special features
Hernping has forged a community of kindred spirits known as IASH.SG, a secure sanctuary where individuals can engage in one-on-one dialogues with trained peer supporters. Beyond this invaluable resource, IASH.SG orchestrates diverse enjoyable mental health events, spearheaded by Hernping and their devoted team of volunteers. This initiative endeavors to foster camaraderie and endorse candid discourse around mental health, offering a comprehensive well-being approach beyond traditional support avenues.
>>Website
https://www.kayatoastforthesoul.com/ 
>> Contact 
kayatoastforthesoul@gmail.com
Levitise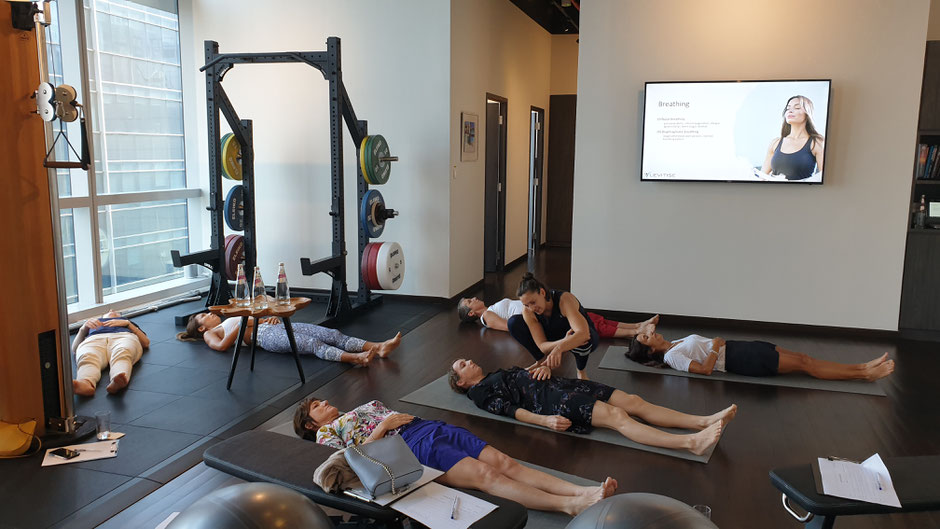 Levitise emerges as Singapore's solitary all-encompassing health and well-being center tailored for senior executives, presenting a comprehensive array of services aimed at enriching and optimizing their way of life.
With a focus on personalized nutrition and lifestyle coaching, corrective exercise, and personal training, Levitise presents an innovative approach to enhancing senior executive well-being.
>>Blog special features
Beyond their expansive service range, Levitise extends its outreach through its insightful blog, transcending conventional offerings. With a focus on bolstering mental resilience, this blog functions as a platform to aid readers in effectively managing the rigors of daily life. Through engaging and enlightening articles, the blog furnishes practical suggestions, strategies, and guidance to empower readers in navigating and overcoming various challenges they may encounter.
>>Website
https://www.levitise.com.sg/blog/mental-resilience/
>> Contact 
info@levitise.com.sg
Tapestry Project
The Tapestry Project SG stands as an autonomous non-profit online publication, championing mental health education, empowerment, and early intervention. Through its platform, the organization champions these vital aspects by curating and disseminating first-person accounts and engaging in therapeutic narrative journaling.
With an unwavering dedication to boosting awareness and dismantling mental health stigmas, The Tapestry Project SG nurtures an inclusive and supportive community where individuals find solace, inspiration, and tools to navigate their personal mental wellness expeditions.
>>Blog special features
Their aspiration is to cultivate a world where mental health is embraced with empathy and comprehension. By fostering awareness, education, and destigmatization, they equip individuals to seek assistance, unearth their voice, and lead gratifying lives. Their vision extends to effecting substantive change, fostering a more compassionate and accepting world for all.
>>Website
https://thetapestryproject.sg/
>> Contact 
community@thetapestryproject.sg
Sabrina Ooi
Sabrina Ooi emerges as a mental health advocate and a lived experience expert, leading with inquisitiveness, empathy, and valor. Possessing a profound understanding of bipolar disorder, depression, and suicide awareness, she harnesses her personal voyage to illuminate these pivotal subjects. Sabrina not only speaks on these matters but also facilitates meaningful mental health conversations for diverse organizations.
Through her keynote addresses and hosting roles, she endeavors to establish a secure and all-encompassing space for individuals to openly share their struggles and discover support.
>>Blog special features
Sabrina holds the mantle of CEO and Co-Founder at Calm Collective Asia, an organization committed to normalizing mental health dialogues in Asia. This platform serves as a crucial conduit for individuals to connect, share experiences, and acquire invaluable knowledge. By nurturing an atmosphere of openness and empathy, Sabrina dismantles barriers and significantly impacts the perception of mental health within the region.
>>Website
https://www.sabrinaooi.com/blog
>> Contact 
https://www.linkedin.com/in/sabrinaooi/
Self-Care Journey: How to Have a Healthy Mind
To cultivate and maintain a sound mind, accord precedence to self-care by engaging in activities that bring forth joy and relaxation. This can encompass exercise, meditation, communing with nature, or pursuing hobbies. Foster affirmative thoughts and challenge negative cognitive patterns, substituting them with constructive and empowering beliefs. Envelop yourself with positive influences, including supportive friends and uplifting media.
Furthermore, effective stress management techniques, such as deep breathing exercises and delineating boundaries, can bolster your mental well-being. Remember, nurturing your mind is tantamount to nurturing your body.
Frequently Asked Questions
What is the prevalence of mental health problems in Singapore?
Mental health problems are widespread in Singapore, as indicated by studies revealing that one out of every seven individuals will encounter a mental health issue at some point in their lives.
Are there available groups to provide assistance for individuals dealing with mental health problems in Singapore?
Indeed, in Singapore, there are support groups accessible for individuals grappling with mental health issues. Organizations such as the Singapore Association for Mental Health and the Institute of Mental Health may offer support groups or provide information about accessible resources.
How can I provide support to a family member or friend with a mental health issue?
Demonstrate understanding, actively listen, and motivate them to seek professional assistance. Educate yourself about their specific condition, refrain from passing judgment, and extend your support and empathy.
Can excessive stress contribute to mental health problems?
Yes, prolonged or extreme stress can contribute to the emergence or exacerbation of mental health problems. Effectively managing stress through healthy coping strategies and seeking assistance when necessary is crucial.
Is it feasible to recover from a mental health issue?
Absolutely, recuperation from a mental health issue is achievable. Through suitable treatment, support, and self-care, individuals can experience notable amelioration in their symptoms, regain mastery over their lives, and lead rewarding and purposeful lives.
Related Posts
Other Featured Articles
Helpful Links